April 23, 2020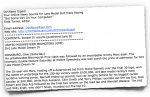 There was no master plan. No business model. No publication schedule. There was nothing except a decision, on a whim, to launch an online news source for Dirt Late Model racing.
It was 25 years ago this week that I produced the first emailed report for DirtNews Digest, which began my motorsports journalism career and helped guide me, for better or worse, to where I am now.
And 24 years and 51 weeks ago, I clearly remember thinking: What in the world have I gotten myself into?
Because suddenly, MORE