Poor conditions force Benton cancellation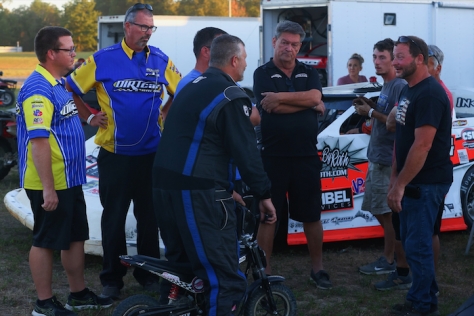 joshjamesartwork.com
Citing unfavorable surface conditions at a track that hasn't operated since 2015, the DIRTcar Summer Nationals cancelled Wednesday's $5,000-to-win event at Benton (Mo.) Speedway. | Complete Summer Nationals coverage
The Super Late Model tour hot-lapped and began time trials at the 3/8-mile oval that last hosted a series event in 1997, but after four qualifiers, officials sent cars back to their pits and asked track officials to rework the dry and rough racing surface.
Track workers spent more than an hour reworking the surface with a variety of equipment, but by 8 p.m., tour director Sam Driggers (pictured above, center) removed the tour's sanctioning of the event. Besides saying the "track was not favorable for racing," Driggers declined further comment to DirtonDirt.com.
While perhaps half the 20-car Super Late Model field — including past tour champions Bobby Pierce, Brian Shirley and Jason Feger — withdrew from the event, track officials forged ahead with a $2,500-to-win unsanctioned Super Late Model event. Mason Oberkramer of Broseley, Mo., led every lap of the feature.
The DIRTcar Summer Nationals return to action Thursday at Fayette County Speedway in Brownstown, Ill., for a $10,000-to-win event.
Editor's note: Additional information provided by Josh James and Jimmy Dearing.
Correction: Fixes the spelling of Oberkramer's hometown.