Rookie Louisiana Crate racer dies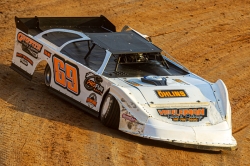 Michael Boggs
Fledging Crate Late Model racer Ty Veuleman of Many, La., was killed Wednesday in a freak accident in east Tennessee, according to veteran racer Bill Frye, a friend of the Veuleman family and a mentor to the 17-year-old racer.
Veuleman's death was the apparent result of a roadside mishap after he had climbed out of a 1972 Ford pickup truck near a farm the family has purchased to continue the youngster's racing career, according to details Veuleman's father shared with Frye in a Wednesday night phone call.
News of the second-generation driver's death sparked outpouring of prayers and concern via social media for the family of the youngster who competed in the weekend's American Crate All-Star Series event at Volunteer Speedway in Bulls Gap, Tenn.
"He's one of the finest boys I've ever met," said Frye, who said he first began working with Veuleman when Veuleman's father began purchasing parts for the young driver's ministock from Frye's Greenbrier, Ark., race parts and consulting business five years earlier. "It's been a heartbreaking night and day for me. I can't even imagine what it's done to his family. They're great people. You just hate to see anything like that."
Veuleman's rookie season in Crates included home-state competition at Glenmora's Thunder Valley Speedway and Greenwood's Boothill Speedway. He twice posted fourth-place finishes among 14 starts at Thunder Valley, where he was third in points in his No. 69 entry.
Fellow Louisiana racer Brandon Hightower remembered Veuleman as "always smiling and joyful," in a Facebook post. "Coming from a family of racing you were determined to race like your dad and I know he is proud of that."
According to a report from Morristown's Citizen Tribune, police believed Veuleman had trouble starting the truck near the Cocke County Convenience Center in Hartford, Tenn., and was under the vehicle when it fell or rolled onto his right side. An emergency responder used a jack to lift the truck's wheel, but the teen wasn't breathing.
Editor's note: Updates with details from accident.