Former WISSOTA champ Mahder dies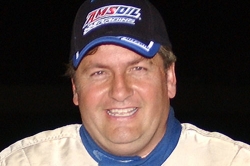 Chris Burback
Former WISSOTA Challenge Series champion Duane Mahder of Eau Claire, Wis., died after a work-related accident Monday evening in Union, Wis., according to a Facebook post by the WISSOTA Promoter's Association. He was 64.
Mahder, a seven-time winner on WISSOTA's Late Model tour driving his No. 55, was among the most successful Late Model drivers in the region during a lengthy racing career that ended in 2009. Mahder's WCS title came in 2001, the tour's third season.
Mahder's richest victory came in a $10,000 triumph in 2003's Dacotah Rumble at Brown County Speedway in Aberdeen, S.D. Among other major victories for the former Rice Lake (Wis.) Speedway champion included the 1990 Red Clay Classic at ABC Raceway in Ashland, Wis., 2002's Labor Day Invitational at Rice Lake and Shawano (Wis.) Speedway's 40th Anniversary Special in 2000.
"He was always one of the nicest guys to chat with at the track," former WISSOTA Challenge Series director Troy Powers posted on Facebook. "Thoughts and prayers are with the entire Mahder family."
Mahder was part of a well-known racing family heavily involved in WISSOTA competition with his sons Chad, a current Late Model competitor, and Shawn following his tire tracks as racers. Duane Mahder's brother Ron was the 1993-'94 super stock division champion and Ron's son Cory competes in the modified division.
Visit lenmarkfh.com for a complete obituary.